Valicor Environmental Services
After nearly 40 years of business, Valicor was in need of a website redesign to help convey their growing reach throughout North America. Valicor is the largest provider of non-hazardous wastewater treatment services in North America. Leveraging its extensive fleet of tankers and a network of strategically located centralized wastewater treatment ("CWT") facilities, the Company transports and processes diverse wastewater streams that result from the manufacture of industrial and consumer goods. As an ISO 14001 certified organization, Valicor takes great pride in its environmental compliance process. With 25 locations in 10 states and growing, 180+ truck fleet and 300+ million gallons of wastewater recycled every year, Sound Press needed to give them a digital update that would effectively communicate the power of this brand.
PROBLEM
Valicor Environmental Services came to us with a few challenges. Primarily, they were in need of a website that would work for them in helping increase conversions and drive more leads. Additionally, Valicor was acquiring new facilities as a growing rate and needed a digital format to help showcase these expanding boundaries as well as allow potential customers to easily get in touch with their regional facilities.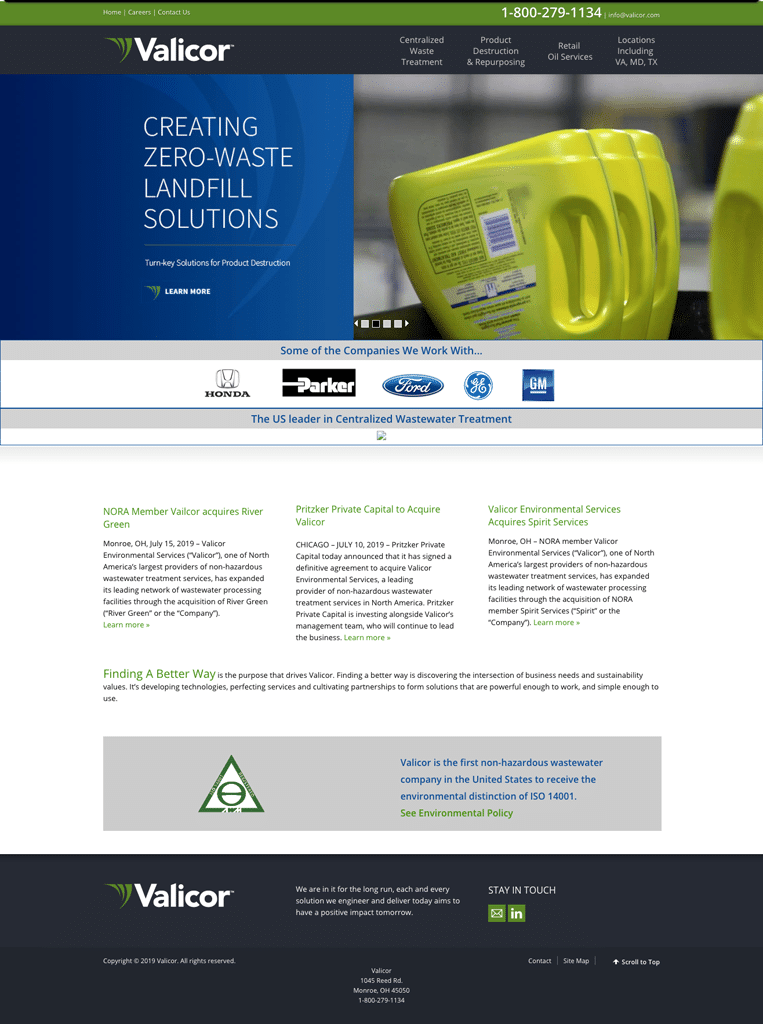 Old Valicor website
SOLUTION
We set out to help increase conversions and drive more leads through improved content marketing, lead generation strategies, brand positioning, and better mobile experience. Valicor and Sound Press worked tirelessly on a digital strategy that would not only provide a sleek, new, responsive (mobile-friendly) design for the brand but also fit the growing marketing needs of the company. We designed an integrated, clickable map that would feature the various North American facilities and allow users to quickly connect with those facilities in their region.
RESULTS
The updated, mobile-friendly design and integrated map not only showcases the company's reach in the US but also helps users easily find and contact the best local branch for their oily wastewater recycling needs. The content strategy also showcases the brand's power and trust that they've earned over a nearly 40 year period. Additionally, Sound Press designed various marketing collateral to help communicate the Valicor message and mission.
TESTIMONIAL
I've worked with Sound Press on developing a variety of marketing channels including website redesign and product support development. I work with them because I can rely on their delivering excellent results. On our latest website redesign, we worked together to establish a branding strategy and then they got into the weeds with me to determine how best to implement it. Our collaboration has resulted in a compelling website that delivers the marketing message quite successfully.
We also have partnered in developing sales support materials to improve our branding and marketing message. My definition of Sound Press: "Intelligent marketing professionals who take the time to understand my company's marketing goals/needs, are highly teamwork-oriented, and can deliver the goods in a timely fashion." And that's what I need in a marketing partner.
– – Tisha Bruemmer / Marketing Manager, Valicor Environmental Services